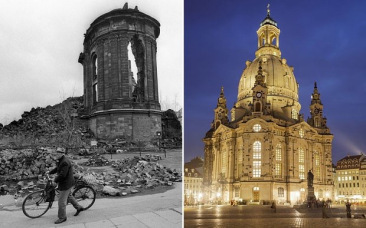 Sultan ÖZEL                                                                                                                                                                              
Translated by :Elif VAN 
Edited by: Pınar ÖZCAN
Cultural properties are concrete documents of the human history. These are the traces of societies
and they are even traces of every living being. Natural factors and human destructions cause cultural
properties' dissappear and devastation. For the protection of cultural properties, people should be
made conscious first, governmental and non-governmental organizations should take part in the
required repairments, strengthening and restoration.
After World War II international agreements drew up for the protection of cultural properties. For
example, the Venice Charter (1964), 1954 Hague Convention for the Protection of Cultural Property in
the Event of Armed Conflict.
International Crime Court (ICC) has the authorisation to judge people who responsible for the attacks
against historic monuments and cultural properties; in accordance with Rome Statute and in the article
8 paragraph 9, it is stated as a war crime to destroy historic monuments. On September 27, 2016 ICC
declared Al Mahdi guilty of the war crime of attacking 10 historic and religious buildings in Timbuktu,
Mali. (All of these buildings except one were recognised as World Heritage by UNESCO.) This trial carries
a lot of weight in terms of focusing on the destruction of cultural properties as a war crime by ICC for the
first time.
Ahmad al-Faqi al Mahdi was arrested on September 18, 2015 by the order of ICC. Rome Statute
article 65 enables the accused to make an admission of guilt. The defendant admitted his guilt and
apologized. " I am really sorry and remorseful and I regret all the damage that my actions caused. I
would like to give a piece of advice to all Muslims in the world, don't get involved in the same act I got
involved in because they are not going to lead any good for humanity." The Chamber concluded that it
considered Al Mahdi's apology to be genuine and that he comprehended the importance of admission
of guilt.
Al Mahdi's trial began on 22 August on grounds of war crimes in ICC. The prosecutor recommended a
prison sentence between 9 to 10 years. The upper limit for the destruction of cultural heritage is up to
30 years. On September 27, 2016 ICC found Al Mahdi guilty for intentionally directing attacks on June
and July 2012 against religional and historic monuments in Timbuktu, Mali. ICC found 5 mitigating
factors: Al Mahdi had admitted his guilt, given detailed information about his actions, shown remorse
for the destruction of cultural heritage, advised against demolition and offered to pay for the restoration
of Sidi Yahia Mosque. He finally condemned 9 years of prison sentence.
Because of the recent terrorist incidents in Iraq and Syria, many places on the UNESCO World
Heritage List have been destroyed. Some of them are Palmyra Ancient City, Umayyad Mosque, Al-
Madina Souq, Archeology Museum.
According to Untied Nation's (UN) report, massacres have caused damages here which can not be
mended. 290 cultural heritage area in Syria have been damaged, 27 completely demolished, 189 have
severe damages and 77 is in danger of extinction caused by armed conflicts. In the report it was also
pointed out that in Aleppo, specifically the northern part of the city many places on UNESCO World
Heritage List have been demolished. UNESCO send a message to international community to stop
cultural cleansing in Iraq. International Community, the International Council of Museums, International
Council on Monuments and Sites have supported the charter by saying that it can only be stopped if
international community unites. By the end of the war, members of terrorist organizations who are
responsible for the destructions of cultural Heritages will stand a trial in case of having other jurisdiction
clauses.
After World War II, cultural properties were damaged in Europe. Legal actions like international
agreements and charters, social organizations provided their restoration and repairments quickly.
Instead of repairing one by one, they organized whole city and area. They set up special commissions
and projects for the protection and renovation of cultural heritages, promulgated special law for historic
preservation. Also they raised awareness about carrying their past to future is community's responsible.